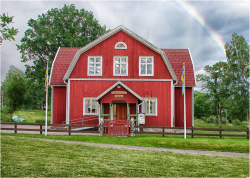 Keynote von Tim Weilkiens auf der SWISSED am 8. September 2015
Dort erfahren Sie auch, was das ganze mit einem Schwedenhaus zu tun hat… Oder fragen Sie mich tim.weilkiens@oose.de.
It is time for a change. Since many years we know that requirements are important and that it is a big problem in many projects. However the requirements engineering discipline does not really change yet. Today's requirements engineering publications look more or less the same than 10 years ago. Let's REthink!
It is trendy to name something 4.0. However I will really show you 4 versions of requirements engineering. Requirements 1.0 and 2.0 is well-known and still common in projects. Many projects work hard to introduce an effective Requirements 3.0. And Requirements 4.0 will probably be the future.
Requirements 4.0 is simple and no rocket-science. The challenge of the new approach is the different mindset and will be the first step to a new way of handling requirements. REThink!
1, 2, 3, and 4 – Confused? You will know what these numbers mean after the presentation. And you will learn something about models, SysML, collaborative engineering environments, requirements, base architectures, zigzags and of course get an idea of future requirements engineering with MBSE.